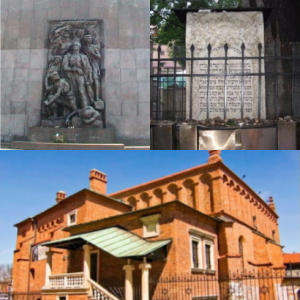 The History and Revival of Jewish Life and Culture in Warsaw and Kraków
From June 25—July 2 2017, join Ansche Chesed on a journey of learning, culture, and commemoration. For 1000 years, Poland was the heartland of European Jewish life and culture. Rabbinic Judaism, Yiddish and Hebrew literature, secular Jewish political parties, and other forms of a vital, diverse Jewish culture flourished in Poland until the Holocaust. Now, 28 years after the fall of Communism, come and witness the current Jewish Revival.

Itinerary
Study with Rabbi Jeremy Kalmanofsky and Dr. Nancy Sinkoff
Enjoy the Annual Jewish Culture Festival in Kraków
Tour the new POLIN Museum of the History of Polish Jews
Share a Shabbat dinner hosted by the Kraków JCC
Commemorate at Auschwitz-Birkenau
Engage in genealogy sessions
Meet with leaders of the Polish Jewish community, including the Chief Rabbi and Executive Director of the Kraków JCC
Encounter the works of great writers and thinkers that helped to mold Ashkenazic Jewish culture
FAQ (Frequently Asked Questions)
Download and complete our registration form
Articles of Interest
36 Hours in Warsaw – The New York Times
The Curator of Joy and Ashes – Tablet
Please send a $500 refundable deposit to Ansche Chesed (251 West 100th Street, New York, NY 10025) or eMail druskay@anschechesed.org with any questions.